Denver Graphic Design Solutions
---
Since you're reading this, you have a choice to make. Should you hire one of the countless "graphic designers" that you know – your nephew, your sister-in-law, the IT guy, the barista at your favorite coffee shop – or, should you hire a team of professional graphic designers who will take the time to understand your brand's voice and create designs that will contribute to your bottom-line?
Graphic design is a process, and the most important part of that process is communication. The designer and the business need to have an open dialogue about what the design should be, and what the design shouldn't be.
Whether it be a logo, a brochure, an infographic, a flyer, a mailer, or any other marketing collateral, the design needs reflect the branding and identity of the business. Just like writing or speaking, your design assets needs to be consistent with your company's voice. Eye9 Design has the experience and talent to make design choices that truly enhance your brand.
So while you may already know a graphic designer, you don't know Eye9 Design. We create professional designs in the form of logos and identity, print marketing and direct mailers, branding and campaign identity, marketing collateral, and much more.
What Graphic Design Shouldn't Be
Opening Photoshop, writing some text in a fancy sans serif font, and pressing a couple buttons to create a logo should never be considered graphic design. There is nothing more frustrating than seeing elementary techniques applied to a design, and then being charged for it. These are some of our biggest pet peeves we see in the industry: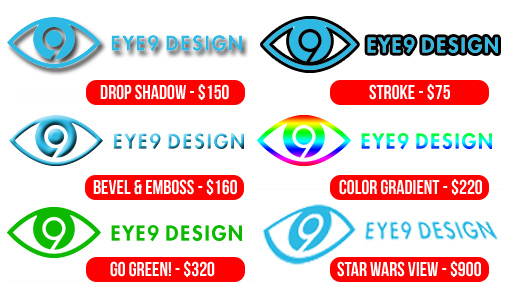 Way Too Prominent Drop Shadows
Why is your logo floating? Is it some sort of hoverboard from Back To The Future? Drop shadows look awesome if used correctly as an accent to your logo, not the feature. Please be careful when you want to add a drop shadow.
The "I Ran Out Of Options" Stroke
Applying a stroke to a graphic is usually a cover-up for the readability of your logo. If it's not readable unless a stroke is applied, it shouldn't be used period.
Your Logo in 3D (Kinda)
The bevel and emboss technique is an incredibly classy and beautiful method to make your business cards stand out. But only if they are actually embossed. The digital method looks sloppy and completely unreal. You're not fooling anybody.
Look At All These Colors
Gradients should be subtle. The goal is to have a nice blend of one color from a lighter to a darker to add aesthetics, with two colors max. If you have a mixture of a ton of colors, it looks like your business belongs in a coloring book, not on the Fortune 500.
We Work For The Environment!
Going green is a great corporate responsibility, especially in 2015. However, you are not the first to do it. There is nothing wrong with having green be the color of your branding, but incorporating trees and grass and recycling imagery is a cheap tactic to try to show you are environmentally friendly. If this is your reasoning for having a green logo, skip it.
May The Farce Be With You
Don't try to imitate trends or pop culture just to squeeze some recognition out of your logo. You may be a Star Wars nerd, but making your logo try to imitate the credits scroll is just silly.
What Graphic Design Should Be
Graphic design should be a reflection of you or your brand's personality and image. If you are a professional company, your logo should convey professionalism. Let's take FedEx for example:

If FedEx were to use the logo with the Comic Sans font, they may not even be in business today. Let your logo, and all your visual marketing materials (including your website), represent your business as professional and trusted.
Graphic design is a process that requires attention to detail, research, and open dialogue. Everything needs to work together in order to create the best representation of your business. At Eye9 Design we spend countless hours researching and developing your logo, with constant feedback from you, to ensure your business is set up for long-term success.
First impressions matter. When you meet someone for the first time, your notice their eyes, smile, and hair. When people first look at a business, their logo and branding is the first thing they notice. Your first impression ought to be powerful. Collaboration and communication are the most important parts of effective graphic design, but everything needs to be intertwined: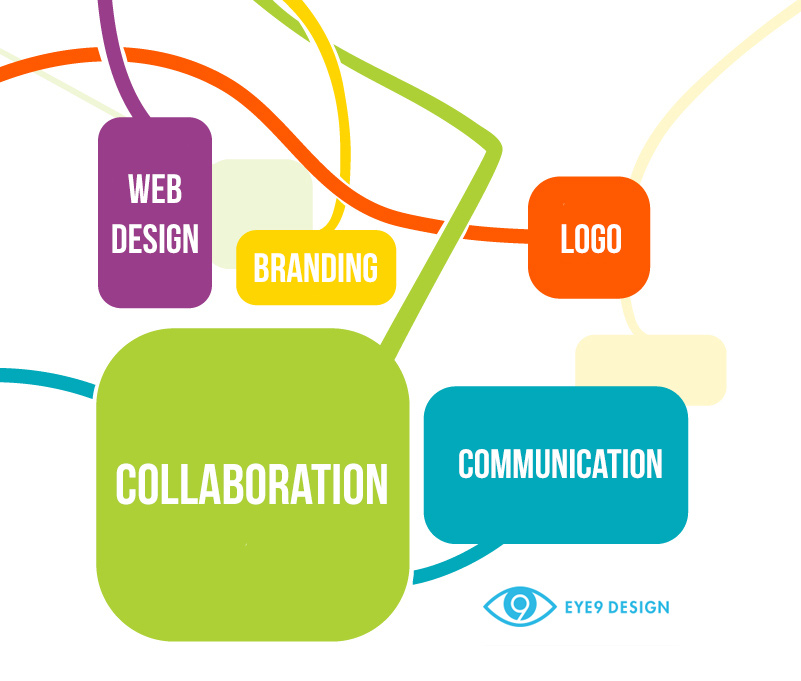 Ready to Enhance Your Brand with Effective Graphic Design?
At Eye9 Design, we offer the following graphic design services:
Logos
Branding
Print Marketing
Brochure Design
Mass Mailers
Website Design
Business Cards
Letterheads
Social Profile Imagery
Much More (just ask!)
If you need help establishing better graphic assets for your business, contact us today. We don't cut any corners, so expect us to ask A LOT of questions about your business. Call us today at 720-229-0703 or fill out the contact form to get started. We can't wait to show you what we can do!
Want to learn more about graphic design? Have at it: